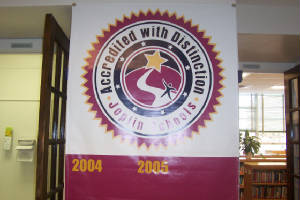 Joplin R-8 Schools have been Accredited with Distinction for the second straight year. Find out what that means when an article is added later today.
Photo by Jacob Oviedo
JOPLIN SCHOOLS ACCREDITED WITH DISTINCTION
by AMANDA WELCH
Room 210 Staff Writer
The sign is in the hallway by the office, but have you ever wondered what "Accredited with Distinction" means?
The Joplin R-8 School District, including South Middle School, has been accredited with distinction for the past two years.
Accredited means that students in the district, including South students, have met certain goals. South students scored high on the MAP tests, helping the district reach the goal.
Distinction means a higher rating of recognition, showing that we have succeeded in reaching our goals.
Accredited with distinction is "the highest rating a school district can achieve through the Missouri School Improvement Program (MSIP)," according to the Missouri Department of Elementary and Secondary Education.
The Joplin R-8 School District is the only K-12 district in this area to be accredited with distinction.
South Middle School Principal Mr. Ron Mitchell said, "I am very proud of the students here at South because Accredited with Distinction is highest rank."
SUCCESS PROGRAM HELPS SOUTH
STUDENTS REACH THEIR GOALS
By RONI LEONARD
Room 210 Staff Writer
"The Success Program is designed to help improve grades, behavior, and attendance," according to Mr. Casey Pliler, who teaches it.
Mr. Pliler helps his students by giving grade checks every other week, communicating with other teachers and family members, setting up programs for individual students and helping them to understand information being taught in other classes. The program is designed for students who are having difficulty succeeding in the classroom.
The Success program is just like a normal class with sixth, seventh, and eighth graders in separate classes, according to Mr. Pliler. The program is carried into the high school where similar programs are held.
In order to leave the Success program, students need to complete two quarters of consistent improvement in grades, attendance and behavior.
HONORS CHOIR PERFORMANCE SET
By CHRISTY HERNANDEZ
Room 210 Staff Writer
The Honors Choir will perform Feb. 25 at the Carthage Senior High School Auditorium.
Honors Choir is the top eight to 12 students from each middle school or junior high school in southwest Missouri.
Songs that will be performed by the group are:
"Et In Terra Pax," "Walking on that Heavenly Road," "Fanfare Gloria," "A Branch of May," and "Defying Gravity."
The guys will sing a song by themselves called "We Are the Man." The girls will do "Rockin' Robin" and "Pie' Jesu."
"It's a lot of work, but it's a lot of fun," SMS vocal instructor Ms. Julie Yonkers said.
South Middle School students who will perform are:
Soprano- Arlia Arwood, Becca Mascher, Katie Wood; alto, Jenny Hill, Lauren Bynum, Tamara Zajac; tenor, Grant Lewis, Aaron Brow, Alex Johnson; bass Spencer Moss, Dustin Trebbe, Matt Smith.
MIDDLE SCHOOL BANDS
PRESENT HOLIDAY PROGRAM
The South Middle School bands presented the 2005 holiday concert in December.
The Jazz Band performed three numbers, followed by the Beginning Band, which did four, and the concert band, which performed five.
Jazz Band members are: Dakota Hackworth, Cheyenne Howard, Garrett Dowell, Ty Hodges, Gabby Londe, Corey Hounschell, Leif Larson, Nathan Morris, Maddison Billings, Grant Evans, Allen Peterson, and Colby Ritter.
Beginning Band members are: Gina Andujar, Molly Baker, Amber Chacon, Steven Denmark, Quinton Ervin, Jonathan Gonzalez, Jessica Kennedy, Tiffany Douglas, Brittany Frisbe, Aron Hembree, Ashley Keeton, Aaron Kraft, Tiffany Martinez, Kody Simpson, Dakota Williams, Cecil Cornish, Eric Nulph, Chris Perry, Bryan Ross, Joran Bailey, Nathan Baker, Nathan Cox, Gareth Evans, Dustin Foster, Bret Gibson, Sara Kessler, Luke Lenhart, Junior Ochoa, Casey Sharp, Brett Stearnes, Jeff Terry, Kyle Vene, Brian Geier, Geoff Aiken, Monica Anderson, Chayse Chasten, Chance Ewing, Kelli Newberry, Robert Sheverbush, Desean Triplet, Tyler Andersen, Randy Bassett, Daniel Vanderlip, Candace Curtis, Sam Friskey, Zach Hibbard, Billy Nguyen, Chloe Potts, Blake Putnam, Gil Randolph, and Dalton Smith.
Concert Band members are: Breanna Baker, Becky Cooper, Michelle Holden, Shelby McMillen, Lynn Nichols, Mary White, Kisha Adams, Maddison Billings, Cody Gilmore, Sierra Hutchinson, Danielle Kleeman, Lainie Nicolas, Mark Patterson, Savanah Sweeton, Matt Lemieux, Austin Bolt, Eleno Bustamante, Zack Cloven, Brent Eagles, Dakota Hackworth, Cheyenne Howard, Andrew Mays, Ryan Poff, Jeff Taylor, Amanda Webster, Jordan Adame, Dalton Anderson, Tyler Beall, Zac Dunnic, Corey Hounschell, Leif Larson, Gabby Londe, Nathan Morris, Amanda Needham, Doug Pumphrey, Will Kessler, Christian Miller, Sam Quinones, Tate Duley, Ty Hodges, Eric O'Hanlon, Timmy Davis, Daniel Story, Jar'Vious Britt, Jenny Brock, Levi Crews, Fischer Dowell, Garrett Dowell, Grant Evans, Tyler Graves, Allen Peterson, Colby Ritter, Tevin Triplett, and Ashton White.
EIGHTH GRADERS RESEARCHING
FAMOUS SCIENTISTS
By SAMANTHA OXFORD
Room 210 Staff Writer
South Middle School eighth grade students recently researched various scientists, some of whom include Louis Pasteur, Jane Goodall, and Galileo.
They presented their research Nov. 30, Dec. 1, and Dec. 2 in the front of room 208. Mr. Mike Wallace, science teacher, wanted the students to get interested or inspired by the scientists they researched, or at least learn a few facts while having fun. Mr. Wallace said he wanted the students to gain knowledge on how the research process works, and to gain some social confidence by getting in front of the class.
"It was fun working with my partner and making the visual aid," said Shelbi Cooper. "The only thing I didn't like was getting up in front of the class.'
"The project was awesome. I loved everything about it," said Sam Godwin.
TUTORING DESIGNED TO HELP SMS STUDENTS
By KRYSTAL FORD
Room 210 Staff Writer
Math tutoring is an after-school program in which South students are helped with their homework and the lady who helps them is Mrs. Valerie Doerr.
She helps students who have missed assignments and if you fail an assignment and still want to get credit she is there to help you.
Mrs. Doerr works with the students to help them reach a higher level.
CHRISTMAS CHOIR CONCERT HELD
The South Middle School Vocal Department held its Christmas concert, "Let Us Sing with Glee," Dec. 16 in the school auditorium.
The Sixth Grade Choir sang five songs with Taylor Camden as soloist on "Naughty or Nice?
The Concert Choir performed eight numbers with Mollie Sanders as soloist on "Do You Hear What I Hear?" Melody Ketron as soloist on "A Gospel Noel" and Lauren Bynum as soloist on "O Holy Night."
The concert concluded with the Southern Belles performing three numbers.
Sixth Grade Choir members are: Omar Arreola, Taylor Camden, Jordan Chambers, Tolby Clemons, Tanner Crawford, Karya Dickey, Breanne Diles, Ariana Dudley, John Elick, Tara Fleming, Ashlee Ford, Jared Fuller, Christian Gates, Chelsea Hernandez, Jessica Highley, Rachelle Hughbank, William Ideker, Amanda Jones, Alex Karris, Katie Kemmery, Tera Knight, Jedidah Larson, Lauren Layne, Bethany Long, Shely-Nicole McDonald, Natasha Martin, Sarah Matthews, Holly O'Dell, Katie Phelps, Mackenzy Pierce- McCutcheon, Abby Sadler, Mariah Sanders, Adam Schilling, Beau Scroggins, Shelby Shumaker, Alex Smith, Adam Snearly, Sydney Snider, Ashley Wesley, Cassie Wooldridge, and Nichole Yeoman.
Concert Choir members are: Arlisa Arwood, Shakota Ball, John Beaman, Cheyenna Beck, Jaquelin Bogarin, Dakota Brigance, Aaron Brown, Lauren Bynum, Cameron Bryan, Gina Casada, Beau Carroll, Zeb Clayton, Christen Cool, Samantha Cox, Mikaila Craig, Takada Davis, Hannah Doerge, Karly Dorland, Aaron Ebbs, Rachel Etheridge, Leah Forkner, Rachael Foster, Makenzie Freeman, Jacob Gammill, Justine Gowing, Kole Hammond, Paige Harmon, Jamie Hartje, Alexis Hawk, Colten Hawkins, Lacy Heiskell, Breanna Hendrix, Ashley Henson, Christy Hernandez, Kayla Hess, Jenny Hill, Joe Huddleston, Emily Houston, Alex Johnson, Autumn Johnson, Jenna Johnson, Melody Ketron, Ethan Knapps, Kelley Leach, Breezy Leatherman, Roni Leonard, Grant Lewis, Loryn Ligon, Alyssa Loyd, Tessa Luper, Tiffany Lyons, Victoria Mardis, Breanna Martin, Becca Mascher, Adriana Maturino, Kim McKeehan, Chelsea Moore, Amber Morris, Spencer Moss, Jessica Myers, Cheyla Navarre, Rachel Nevills, Jacobo Oviedo, Kelsey Pace, Cindy Pham, Tymper Pope, Tiffany Porter, Dylan Prauser, Grace Randolph, Rachel Richins, Hannah Rosario, Jesse Rowe, Mollie Sanders, Cassey Schulze, Kaylee Sexton, Ashley Slaughterbeck, Abbi Smith, Amber Smith, Ashlea Smith, Hailey Smith, Matt Smith, Rochelle Stanley, Shanna Striegel, Brianneta Stringer, Kaitlin Sullivan, Shelby Sullivan, Dustin Trebbe, Taylor Tressler, Christina Underwood, Wes Underwood, Miranda Veith, Sammy Warren, Amanda Welch, Caleb Wheeler, Ashley Whittington, Aeriel Wilkerson, Kendra Wilson, Tamera Wirick, Shandera Workman, Katie Wood, Jaclyn Wright, and Tamara Zajac.
Members of the Southern Belles are: Arlisa Arwood, Lauren Bynum, Hannah Doerge, Leah Forkner, Christy Hernandez, Kayla Hess, Jenny Hill, Emily Houston, Breezy Leatherman, Tessa Luper, Becca Mascher, Amber Morris, Cindy Pham, Mollie Sanders, Abbi Smith, Ashlea Smith, Taylor Tressler, Amanda Welch, Aeriel Wilkerson, Kendra Wilson, Katie Wood, Jaclyn Wright, and Tamera Zajac.
READING PROMOTION GOAL REACHED
By CHRISTEN COOL
Room 210 Staff Writer
South Middle School students reached 1,200 books read with a last-minute flurry, according to an announcement made seventh hour Tuesday, Nov. 22.
When students return from Thanksgiving break, SMS Principal Mr. Ron Mitchell and Assistant Principal Dr. Jenifer Cryer will dress as waitresses and serve lunch to the students.
"I have no problem being made fun of if it gets students to pick up a book," Mr. Mitchell said.
The students worked hard to reach the goal, teachers said. Mrs. Gala Moss, sixth grade block teacher, was accurate in her prediction of what would happen in the promotion recently when she said, "I know by the time the contest is over South will surprise everyone. Mr. Mitchell and Dr. Cryer better be ready to serve us at lunch."
Candy Grams
By: Tiana Clemons
Quiz Bowl Staff Writer
"To send or not to send, that is the question," says Tiana Clemons, 8th grade, while goofing off and preparing to write this newsletter. The question was, "If you got any candy grams, what did they say?" Matheu Smith, 8th grade, said that they all said to have a great Christmas and to be good, LOL!" Dylan Smith, 7th grade, said, "They mostly asked how I was doing and they also said to have a great Christmas." Many other people got some but many others didn't get any. Have a great Christmas.
QUIZ BOWL TEAM RETURNS TO ACTION
By KANE MCCASLIN
Room 210 Staff Writer
The South Middle School Quiz Bowl Team is preparing for its next meet, which is scheduled for Thursday, Dec. 1, at Lamar Middle School. This competition will feature science questions.
Mr. Randy Turner, eighth grade communications arts teacher and Quiz Bowl co-sponsor, said, "The students are getting better with every practice. Also, they are getting faster with the buzzers and they are really having fun and enjoying themselves.
"I believe we will win some games, we probably will also lose some. The only thing we need to remember is to do our best."
The competition is the second in a series of academic challenges. The first took place in October at Carl Junction Middle School. Other schools participating in addition to South, Lamar and Carl Junction, include Neosho, Diamond and Monett.
Communication Arts Reports
Danielle Russell said, "Thomas Jefferson."Matt Smith said, "McAuley." Jessica Myers, Fox Navarre, and myself said, "Joplin R-8 schools."
What do these three schools have to do with eighth grade communication arts? One large report/grade and lots of fun is what. On October 26th Mr. Randy Turner assigned everyone in his eighth grade comm-arts class to one of these schools: Thomas Jefferson, McAuley, or Joplin R-8 Schools.
Everyone researched their school that very same day, after researching their school they wrote a one page paper on that school.The next day they all got into groups that had the same school and made a brochure to get parents to enroll their student into that school.
After doing their research Jessica, Dannielle, and Fox said they had not learned anything on their school, that isn't the case for Matt though, he learned that McAuley has very few Extra Curricularactivities.
The next question is, was this a good project to start the second quarter with? Danielle and Matt had the same oppion on that matter, that was simply yes. For the others well a few more words came to mind, "Sure" said Jessica, "It was alright" said Fox. As for me I, I just won't go there!
By Noelle Hess
This page features news and information about the students and staff at South Middle School.
SOUTH'S FIRST CREATIVE WRITING CLUB
BY AMANDA WELCH
The creative writing club is the newest club here at South Middle School and I asked Ms. Medlock-club adviser-some questions and got answers you might want to know.
Creative writing club is for the students who want to compete in a magazine about poetry, non-fiction, fiction and art. Both students and staff members are allowed to submit an item(s) of the above. Creative writing club meets every Tuesday from 3:00p.m. to 4:00p.m.
Ms. Medlock said that she decided to make the creative writing club because she had a lot of students that had a great amount of talent in writing and that they needed to show their writing ability.
So for all you students and staff that are interested in writing, meet in Ms. Medlock's room (208) At the appropriate time with your pen or pencil, paper and mind.
QUIZ BOWL BEGINS
BY KANE McCASLIN AND DYLAN PRAUSER
The South Middle School Quiz Bowl team opened its season October 24th at Carl Juntion Middle School in a language arts competition. Thirteen students participated. The 7th grade include: Kane McCaslin, Dylan Prauser, Authur Brown, Leif Larson, steven Williams, and Kovan Chew. The 8th grade students include: Tiana Clemens, Mallory Fuller, Cameron Gudgen, Matt Smith, Madison Billings, Blake Tune and Liz Hernandez. The South Middle School Quiz Bowl team will have its next meet on December 1st at Lamar. The topic will be over science. Wish our Quiz Bowl team good luck!
A BREAK FROM SCHOOL
By: Gabriel Londe
Ready for a day off from school? Well, you don't get one but, if it would make you happy, you will get a half day. In fact, it will be on Oct. 31st, the best day in the whole year to go around and be mischievous. Even better, when you are at home doing whaterver you do the teachers will be at meetings.
I bet you were wondering how the day will go. So here are the times for your classes: 1st hour 8:00 to 8:26, 2nd hour 8:30 to 8:56, 3rd hour 9:00 to 9:26, 4th hour 9:30 to 9:56, 5th hour 10:00 to 10:26, 6th hour 10:30 to 10:56,7th hour 11:00 to 11:26.
Here's the teachers schedule for the day: 12:45 to 1:45 meet at MMS, 1:45 to 2:00 is break, 2:00 to 3:15 is study group.