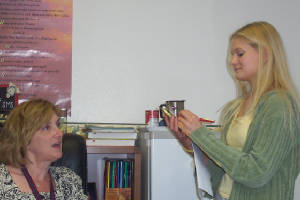 SMS Assistant Principal Ms. Peggy Day, shown being interviewed by Room 210 Staff Writer Skye Smith, will retire at the end of the current school year.
Room 210 Photo by Katy Polen
ASSISTANT PRINCIPAL RETIRING
By SKYE SMITH
Room 210 Staff Writer
Ms. Peggy Day, assistant principal at South Middle School, is retiring at the end of the current school year.
Ms. Day has been assistant principal here for two years and has been in the Joplin R-8 School system for 30 years.
"I started school to be a principal about four or five years ago. It was sort of an end-of-career decision, but I'm glad I did it," she said.
Before Ms. Day became assistant principal at South, she was working as an English teacher at Joplin High School.
She said she has enjoyed being a principal, but she has had to adapt to the change from coming from a high school to a middle school.
"I've enjoyed it very much," she said. "I enjoy the staff and the students here, but it took some getting used to because I was used to high school kids." Ms. Day says that what she does now is hard work, but she actually had to do even more work when she was teaching.
Ms. Day will carry on in her career after she has retired, but instead of a working at a full time job, she will be working part time.
"I've had some interviews for college teaching, so I'm thinking about doing that, but part time," she explained.
Though Ms. Day will be leaving South, some memories she will never forget. "The good memories would be seeding kids turn around and do better," she said. But she also has memories from South that she will be able to look back on and laugh.
"The times Mr. Mitchell and I had to make fools of ourselves, like me being in a football outfit and him being in a dress, and then, of course, us getting pies thrown in our faces, don't want to forget that."
Ms. Day feels it is important that the students, as well as faculty, hang in there for the years to come.
"Students, I expect to hear over the next six years that every single student in this building graduate from high school. Faculty, hang in there, your time will come."
Students showed their eggs to the judge during the annual TA Egg Drop Competition Thursday.
Room 210 photo by Noelle Kownslar
EGG COMPETITION NO YOLK
TO DETERMINED TA
By KATY POLEN
Room 210 Staff Writer
The day finally came when we had to redo the TA Egg Drop. Everyone in Mr. Randy Turner's TA was doomed for we didn't have a shoebox (a requirement for the contest). All we had was a Kleenex box that was almost empty. We didn't know what to do. Mr. Turner, on the other hand, had some ideas.
The first step was to see if we could get by with using the Kleenex box. So...Mr. Turner wrote on the bottom of the box "THIS IS A SHOEBOX, REALLY." Noelle Kownslar and I went down to the office and asked Mrs. (Jamie) Frazier, "Will this work?" She said, "No." And with that, our hopes went down.
Thanks to Mr. Turner, who was full of ideas, we didn't give up. The next step was a bribe. So he gave Bethany Reed and me 50 cents and told us to go to the teachers' lounge with the Kleenex box. Down the hall we went, hoping it would work by Mrs. Hale once again said, "no." We ran back to the classroom and we were running out of time.
We told Mr. Turner what had happened, and he came up with another idea. He put a shoe he had in the classroom in the Kleenex box. So, off Bethany and I went again down the hall making our way to the teachers' lounge with the 50 cent bribe in one hand and the shoe in the Kleenex box. Mrs. Hale said, "You can only get by if we break the egg before we throw it." Yeah, in what right mind are we going to let them do that?
Running to the classroom again, we found Mr. Turner was ready with his next fantastic idea. He had a yellow piece of paper and a red pen. On the paper he wrote "IOU, one shoebox." We ran down to the teachers' lounge again with Ms. Reed waiting in the hall as I went in. I handed the note to Ms. Hale and Ms. Frazier both. I waited. Then Ms. Frazier said, "I was going to bring a shoebox today, but I didn't." Mrs. Hale, on the other hand, said, "I have a shoebox in my room on the bookshelf behind my desk, but you only have five minutes."
Boy, did I shoot down the hall, running and telling Bethany the news. Then all of a sudden as we were turning the sharp corner, Bethany took a spill and fell from right under her very own feet! I don't think I have ever seen someone fall then shooting back on her own feet like that. We ran to the classroom to tell Mr. Turner. We told him where we were going.
We ran down the stairs and went sliding into Mrs. Hale's room, snatching the shoebox. Everyone was staring at us, but I didn't care. We got to the classroom and we had TWO MINUTES! We grabbed the rest of the Kleenexes and wrapped them and taped the egg. Then we put the food section of The Joplin Globe around it. We crammed it into the Kleenex box, then put it in the shoebox, taped it with more tape and ran it to the teachers' lounge. All in five minutes. Whew, that was a close one!
The next day, it was time to drop the egg. Looking up at the window...we waited for our egg to be dropped. Finally, it came out the wnidow. Bethany ran and grabbed the box. We tore it open and unwrapped it... and ohhhh the excitement and joy it brought to our faces. It wasn't broken.
What a wonderful day it was!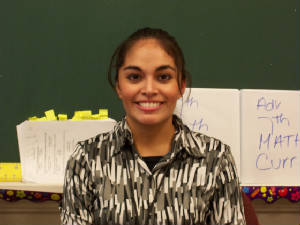 Miss Maribel Chairez
FORMER SOUTH STUDENT
RETURNS AS MATH TEACHER
By ANDREA STEERE
Room 210 Staff Writer
A new seventh grade math teacher has joined the staff at South Middle School.
Miss Maribel Chairez, a former SMS student, joined the faculty at the beginning of the second semester. Miss Chavez also was a graduate of Joplin High School and Southwest Missouri State University.
She has worked with seventh and eighth graders before (mostly eighth graders) in math and social studies, but now she just teaches seventh grade. Though Miss Chairez heard that she might have trouble with the students, she hasn't had any yet.
Though Miss Chairez has been to South before, coming back as a teacher is a different experience. When she was a student, she thought the school was pretty big (and that even the half-lockers were big), but coming back as a teacher (and as an adult) the school doesn't really seem as big as she remembered.
Welcome to South Middle School, Miss Chairez.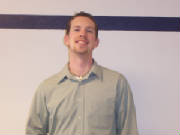 Mr. Jason Weaver
WEAVER HONORED BY
GOLDEN APPLE NOD
By BRITTANY RICHARDSON
Room 210 Staff Writer
Mr. Jason Weaver, seventh grade social studies teacher, was one of three South Middle School teachers nominated for the Golden Apple Award.
"It was a great honor," said Mr. Weaver. "I guess I was...excited and...surprised. I didn't expect it. I'm always rewarded for doing what I love anyway."
This is Mr. Weaver's third year at South Middle School. Being a teacher, he said, "has just been my life goal since the first day of kindergarten.
What he enjoys about teaching, he said, is "getting to know the students, watching them grow up, and watching them become respectable young adults and knowing that I had something to do with that."
Mr. Weaver makes a special effort to reach his students. "It's important that I show a lot of respect to my students and I have a good relationship with them," he said. "That helps me to teach them better."
Mr. Weaver has a special message for his students, taken from Lord Chesterfield: "You must be respectable if you will be respected."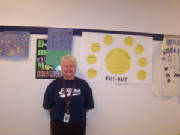 Ms. Joyce Wall
WALL NOMINATED FOR GOLDEN APPLE
By SKYE SMITH
Room 210 Staff Writer
Ms. Joyce Wall said shewas surprised to learn that she is one of three Golden Apple Award nominees from South Middle School.
"Our school is full of wonderful teachers who make a difference in every one of their students' lives," she said. "It should be all the other teachers at South...but I am very thankful. This is a wonderful group to work for."
This is Ms. Wall's second year teaching at South, but she had previous teaching experience. She taught 33 years in Oklahoma. She decided to become a teacher at an early age.
"I had a teacher that flunked me in the sixth grade," she said. "She was not fair to kids that were a challenge, and that's when I decided that I wanted to become a teacher, to try to make up for what she did."
Ms. Wall's favorite part of teaching is "seeing kids 'get it' because that's just so neat!"
Every teacher has special qualities. Ms. Wall says her are "patience, understanding, listening, being fair and truthful."
Her motto for teaching is "There are no kids that are mistakes; everybody has a purpose."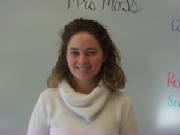 Mrs. Gayla Moss
MOSS JOINS SMS FACULTY
By BETHANY REED
Room 210 Staff Writer.
Seventeen days from graduation to the start of a teaching career. That's how fast things have been going for South's new sixth grade block class teacher, Mrs. Gayla Moss, as she returns to South to be on the opposite side of the classroom.
Teaching her favorite subject, Mrs. Moss replaced Mrs. Julie Mooney, who resigned to move to Kansas where her husband has taken a job.
Sixth graders can be a handful, but Mrs. Moss loves teaching them.
Her classes are the only ones she has taught besides the first grade
class she taught during student teaching for one semester. The area of teaching has always been a life dream for Mrs. Moss.
SMS cheerleaders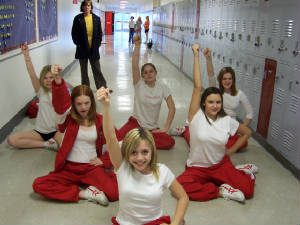 South Middle School cheerleaders are shown during practice on Thursday, Jan. 6. They will be in action tonight (Jan. 10) when South plays at Memorial Middle School.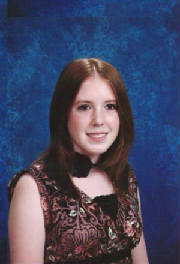 Brittany Harmon
FORMER SMS STUDENT'S POEM
INCLUDED IN NATIONAL PUBLICATION
By CHRISSY THURMAN
Room 210 Staff Writer
Joplin High School freshman Brittany Harmon's poem, "Invisible," has been included in the "Anthology of Eighth Grade Poetry," a national publication. A copy of the book is in the South Middle School library.
Her poem was selected after being one of three winners in a contest at SMS last year. The other two local winners were Emily Evans and Sarah McDonough.
"I was really excited and proud of it because I had never got a poem published before," said Brittany. "I"ve been writing since I was little and I got more interested last year and Mr. Turner helped me to improve."
Brittany's inspiration for her poem was a close friend.
She encourages other young writers to "keep writing and eventually you might be inspired to write something great."
That's what Brittany intends to do and her former teacher thinks she may accomplish that. "Brittany has a world of talent and I hope to see more from her in the future," said Mr. Randy Turner, communication arts teacher.
(Anyone who would like to know more about Brittany can visit her website, "My Thrilling Life," at
www.pink_phenomenon.blogspot.com
A copy of Brittany's poem is featured on the South Alumni page of Room 210.
LETTING GO
By SAM MOORE
Why does it hurt so bad to lose someone when you know they're going somewhere they want to be?
I'm not talking about when people die, though it sometimes seems they have. Maybe it's just selfish to always want people there and expect them to never leave. It's hard to accept the fact that you know they will leave, and it makes you want to scream. But you know you can't, and you just keep to yourself and hope that you won't cry. You want so bad to make them stay, knowing if they did, they would always be safe.
That's how I feel. You see, I have this friend that I first met through my sister. He was one of those friends in her group, and he was pretty cool. I started going to church with my sister when we were invited by one of her other friends, Kate, and after a while their whole group was going.
I watched Daniel stop all of the things he used to do, like curse and make perverted jokes. He became a great, caring person who gave his heart to God. He was one of my role models, and turned out to be like a big brother.
Then he got a job and didn't show up on Wednesdays very often. When I did see him, there wasn't much conversation, and he hardly ever talked to my sister. Then this past week, he came to church.
When I first saw him, he was asleep on the game room couch. Later that same night, he told me he had joined the Marines and would be leaving next year.
You may be thinking, "Big deal, you still have a whole year," but really I don't because I won't see him much and before I know it, he will be gone.
It's like I will be losing a family member. He's leaving and I am afraid he will get hurt.
He says he will come to Joplin when he can and visit, but I am not sure he will. Besides, there are a lot more people here he would want to visit, so I guess I will just fade into the background.
So, in a way, it's like he is dying. Not to the world, but to me. I guess when it comes down to it, I will eventually have to let go. Maybe, after awhile, I will be over it and just look back at the good times.
For now, I guess the only thing I can do is pray.
MUSIC HIGHLIGHTS HOLIDAY SEASON
By CHRISSY THURMAN
Room 210 Staff Writer
Christmas time is here at last, meaning that the carols are playing and the bells are ringing. The stores have begun playing holiday music and people are putting up lights.
Everyone has their own favorite Christmas songs. Mr. Ron Mitchell, South Middle School principal, said, "My favorite Christmas song is 'Jingle Bell Rock' because it's just always been my favorite."
Both Ms. Sarah Anderson, secretary, and Ashley Kissee, eighth grader, say that their favorite song is "White Christmas."
Eighth grader Adela Canales said that her favorite song is "The First Noel" because "it was the first Christmas song that I ever heard."
Meanwhile, Noelle Kownslar said that she hates that song and that her favorite Christmas song is "Silent Night."
Eighth grader Andrew Frost said that his favorie is "Carol of the Bells."
Mr. Randy Turner, eighth grade communication arts teacher, said that his is "The Christmas Song" by Nat King Cole because "it is a beautiful song."
Skye Smith, eighth grader, said that her favorite Christmas song is "Frosty the Snowman" because "Poor little Frosty melted and I love him and he will always be in my heart."
YOU CAN GO HOME AGAIN
By SKYE SMITH
Room 210 Staff Writer
It didn't take long for new eighth grade reading teacher Ms. Sheri Medlock to get used to South Middle School.
"It's been really fun, especially since I was a student here at South in sixth and seventh grade, so it's been kind of fun to come back as a teacher.
"It was really weird coming back to the building I went to sixth and seventh grade at," Ms. Medlock said. "At the time, Memorial was the junior high, so this was only sixth and seventh grade."
Teaching is a new experience for Ms. Medlock. "This is my first year teaching," she said. It is also her first time working with eighth graders. "For my student teaching in college, I taught sophomores at Carthage High School."
Eighth grade has been an adjustment. "I didn't think there was going to be that big of a difference, but it's a big difference."
Every teacher has favorite paaaaarts of the job. "I really like reading," Ms. Medlock said. "I enjoy it. And I like sharing things that I enjoy. It seems that you guys seem to enjoy it, too."
Some parts of South bring back memories for Ms. Medlock. "I think I had math in this classroom" she said. "I know I had TA in this classroom. I remember that."
MY WEEK TO SHINE
By JORDYN MCCUTCHEON
Room 210 Staff Writer
All of my life I had wanted to do something. This one thing is my dream. I worked hard, and that's all I ever really wanted. When I was in elementary school all I ever did was cheer. I made up cheers and I cheered them with pride.
I wanted to be a cheerleader.
When I came into middle school, something changed in me. I became more school spirited and more proud. When tryouts for seventh grade cheerleaders were brought up, I never tried out. I was too scared. What if I failed? Or fell? I couldn't possibly do it. It was bad enough being the babies of the school, let alone a girl who couldn't cheer. So I didn't try.
That's something I regretted the most. That I didn't even try. I couldn't say I even tried. My friends asked if I had tried out. When I told them no, they couldn't believe it after how hard I had worked.
When eighth grade year came around, I decided I was going to try out. All of my friends supported me and reassured me that I was making the right decision. So I prepared mentally and physically.
I stretched as often as I could, and stayed positive. It boosted my confidence and my self-esteem. I knew I was ready for the tryouts.
Cheer tryouts are portrayed to be a one-day, do-what-you-know type of thing. That couldn't be a bigger lie. When you come in for tryouts, it's a three-day tryout. The first day you see your cheer performed. There were about 50 girls, seventh and eighth grade combined. We spent the first two days practicing our cheer. The third day was the day we did our cheer alone in front of the judges.
That day was the most nervewracking day I have ever experienced. Almost one year later, I remember getting my number and standing in a line with the rest of the girls outside of the auditorium. I couldn't see any of the girls who tried out before me or at least hear them.
My number was finally called. I hesitated, then made my way through the door. I ran in and did a roundoff. I smiled, did my jumps, and started my cheer. It wasn't so bad. It was actually fun. After all of the girls tried out, we had to wait outside the school. We waited for what seemed like hours. Then the lists were posted, and we all scrambled to find our names. I found mine underneath winter squad and I automatically screamed. My dream had come true. I was going to be a cheerleader. Thanks to hard work, determination, and support, I'm living my dream.
LIVING WITH DIABETES
By RACHEL HUDDLESTON
Room 210 Staff Writer
Many people in the country have diabetes and I am one of them.
You may wonder what exactly diabetes is. Well, it has to do with your pancreas (an organ in the body) not producing insulin, which affects the sugar level in your bloodstream.
There are two types of diabetes: TYPE I (insulin dependent) and TYPE II (which can be controlled by a pill and mostly occurs in adults).
Having diabetes does not mean you can't have junk food (candy, pop, etc.). It just means you have to watch the amounts you eat.
When you have diabetes, you may have to take two to four shots a day. It also means having to take your glucose (sugar) level on a small machine called a meter.
A meter tells you and your doctor how much insulin to take.
When my blood sugar is high I have to increase my insulin dosage. When it is low, I have to decrease it.
Every three to four months, I have to go to a diabetes specialist as do many other people who live with diabetes. While I am there, the doctor checks my Hemoglobin A/C, which is a blood count level or average of the past three months.
If you think living with diabetes is a fun and easy task, then you should try it.
In time they (scientists) will find a cure for it. If not, then, I'll still be just another kid living with diabetes.