Devil's Messenger signing scheduled for July 28 at Hastings in Joplin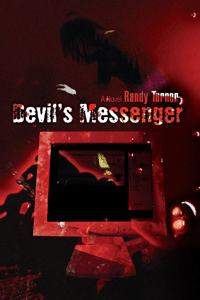 The third Joplin signing for Randy Turner's novel Devil's Messenger has been scheduled for 1 p.m. to 5 p.m. Saturday, July 28, at Hastings Books, Music and Video in Joplin.
The novel is a combination horror story/murder mystery. It is also available at Changing Hands Book Shop and Always Buying Books in Joplin, and from Pat's Books in Carthage. It can be purchased directly from the author or over the Internet from such sites as Barnes and Noble and Amazon.com
From the back cover:
On one hot August night, 15-year-old Cassandra Harper's life is shattered. First, she becomes a victim of date rape, then the body of her father, Richard Harper, is found slumped over the computer he gave Cassandra for her 14th birthday. From that point on, Cassandra withdraws from the world, reserving her communications to her anonymously-written blog…and to instant messenger conversations with her dead father. Devil's Messenger, a combination horror story and murder mystery, is the story of how Cassandra battles from the brink of despair to reclaim her life, and her evil father who attempts to continue his reign of terror from beyond the grave. Adding to the mix is Richard Harper's murderer, who is manipulating Cassandra's family and everyone else in the small community of Westport seeking the hidden fortune that Harper left behind. Devil's Messenger is a roller-coaster ride of terror from beginning to end.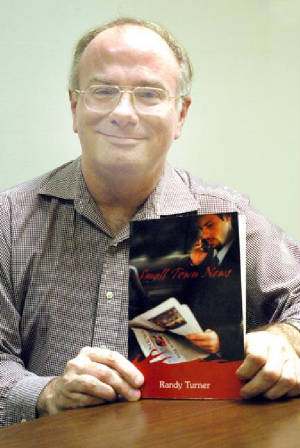 NEW ON WILDCAT CENTRAL
NOVEMBER 19, 2005
For those who are not comfortable with giving out their credit card numbers to order information over the Internet (or those who are truly desperate for Christmas gift ideas), I am accepting orders for autographed copies of my novel, "Small Town News."
Send $20 to cover the cost of the book, tax, and shipping costs to: Randy Turner, 2306 E. 8th, Joplin, MO 64801.
For those who have already bought the book and would like to have their copies signed, feel free to mail them to me at the above address and enclose a self-addressed, stamped envelope. I would be happy to sign them.
NOVEMBER 6-2005
The first Joplin signing for Small Town News is scheduled for 10 a.m. to 3 p.m. Saturday, Nov. 12, at Hastings. I hope to see some of you there.
OCTOBER 23, 2005
OCTOBER 22, 2005
Hastings in Joplin will carry my novel, "
Small Town News
" beginning Monday. A signing at the store will be held on a Saturday in November. A specific date will be announced early next week.
As of Monday, the book will be available locally at Hastings and the Changing Hands Book Shoppe. It is available online through
Amazon.com
,
Books-A-Million
, and
IUniverse
.
May 26
Finally, I have been able to get on this site to edit it. Some of you are aware that Tripod notified me several days ago that I would have to start rebuilding Wildcat Central from scratch. I have done so. You can reach the new site by going to www.wildcatcentral.com
This site will continue to be available, but will probably not be updated very often, if at all. The picture pages will remain up, as will the archives pages, even though I plan on moving some of the archives to the new site.
Thank you for your patience!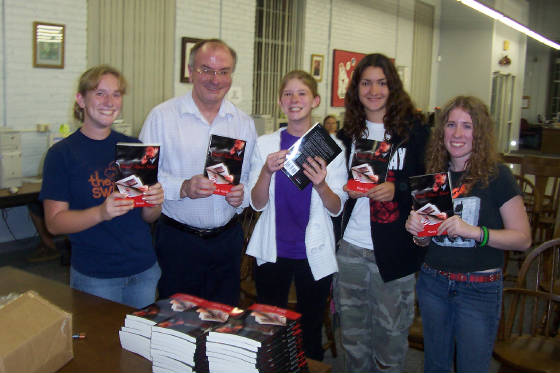 The first signing for "Small Town News" was held Oct. 20 at the Neosho/Newton County Library. Among those attending were several Diamond High School students who were in author Randy Turner's classes when he taught at Diamond Middle School. From left, Ashley Nickolaisen, Randy Turner, Stacia Martens, Jessica Harrison, and Michelle Nickolaisen.
Photo by Shirley Gollhoffer
Missouri School District Report Cards
SIXTH GRADE TIED FOR SECOND PLACE
HI, I'M FOXY, THE PROJECT CAT MASCOT
SECOND SEMESTER PROJECT CAT STANDINGS
(Through April 17)
Seventh Grade- 625
Eighth Grade- 541
Sixth Grade- 541
FINAL SECOND QUARTER CAT STANDINGS
Seventh Grade- 1,614
Eighth Grade- 1,591
Sixth Grade- 1,431
FINAL FIRST QUARTER PROJECT CAT RESULTS
Eighth Grade- 2,295 points
Sixth Grade- 1,989 points
Seventh Grade- 1,787 points
April/May Birthdays
April 5- Cassie Sharon
April 7- Lindsey Cameron
April 9- Shaela Smith
April 15- Layton Hoyer, Andy Struewing, Whitney Cosby
April 16- Gram Boman
April 17- Derrick Cameron
April 20- Eris Baker
April 21- Derek Paradeis
April 24- Zach Manley, Brittany Riggs
April 26- Emily Sewell
April 28- Katie Dodson
April 29- Alyshia Bowles
April 30- Katelyn Long
May 4- James Cook
May 6- Billy Morrow
May 7- Kacie Cooper, Jeff Smith
May 8- Harrison George
May 15- Macy Harp
May 21- Chris Cupp
May 23- Dana Bridges
May 24- Stephanie Taylor, Leanne Ross
May 26- Jason Beckett, Jake Edge
May 29- Josh Matthews
If you know of anyone else with a birthday in April or May, please leave the information with Mr. Turner or put it in the Wildcat Central Comment form on this page. Thank you!