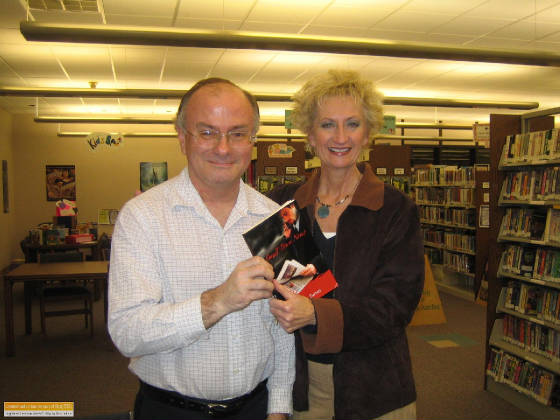 Lamar R-1 School District Nurse Nancy Hughes, a longtime friend, poses with author Randy Turner at the Lamar Small Town News signing held Jan. 17 at the Mary K. Finley Library.
SMALL TOWN NEWS HAS ARRIVED
Orders for "Small Town News" can be made through the any of the links below or by contacting the author.
Small Town News page on IUniverse
IUniverse Devil's Messenger Page
Other Websites by Randy Turner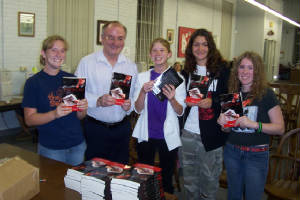 FIRST SIGNING IS A SUCCESS
The first signing for "Small Town News" was held Oct. 20 at the Neosho/Newton County Library. Among those attending were several Diamond High School students who were in author Randy Turner's classes when he taught at Diamond Middle School. From left, Ashley Nickolaisen, Randy Turner, Stacia Martens, Jessica Harrison, and Michelle Nickolaisen.
Photo by Shirley Gollhoffer
LEAVE COMMENTS ON GUESTBOOK
A guestbook has been added on the bottom right-hand side of this page. Please feel free to leave comments.
FROM THE BACK COVER
It's a lousy day in Rockport.
The bank was robbed, a man was killed, and in what may or may not be a coincidence, the school superintendent vanished without a trace...it couldn't have worked out any better for high school journalist Tiffany Everett. Everything happened on the first day of her one-week internship at an area television station.
Tiffany has a chance to see small town journalism at its best and its worst, as she deals with an intriguing group of characters:
-Shannon Starbuck- the hometown girl and star reporter to whom Tiffany is assigned.
-Willie Taylor- Tiffany's journalism teacher, who shares a past with Shannon.
-Kirk Robbins- the boy wonder newspaper editor who is willing to cut corners to beat the competition on the biggest story to ever hit Rockport.
During seven exciting days, Tiffany Everett sees the permanent damage that can be done when the media circus hits a small town...and if she's lucky, she may to live to see football homecoming.
Tragedy happens and the media follows. Small Town News offers a timely look at the damage news coverage can have on a tiny, unprepared community.
Events that inspired Small Town News
Order Small Town News
1-800-AUTHORS or
1-800-288-4677